Infant car seats are also known as child restraint system or child safety seats. These car seats are made entirely to prevent child passenger from getting injury or from death during a car crash and collisions. Some car makers integrate infant car seats directly in the vehicle design but most oftentimes  these seats are bought and installed by the buyer himself.
Infant safety seats reliably provide a passive restraint to the child but must be used correctly to effectively protect or secure your kid within the vehicle. The improper use of infant safety seats may be critical that is why health authorities as well as child safety experts produce child safety videos to inform consumers of the proper car seat installation for car users including parents and caregivers.
Infant car seats are required by Child Passenger Safety Law in many countries to enable the safe transport of children ages two or more in vehicles.
Infant or baby car seat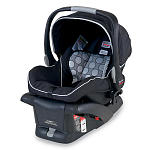 One example of infant car seats are group 0 baby seats or infant carriers that maintain the baby in a locked up state in a rear facing position and be secured using a standard adult seat belt or a special fitting. A carrycot is another example of an infant car seat which is made to secure the child in a supine or prone position with the spine of the child set perpendicular to the median longitudinal plane of the vehicle. During a crash, the restraining forces are distributed over the head and body of the child but not on the child's limbs.
Booster seat
Booster seats are designed for children until they are grown up enough to use the seat belt in a proper manner. Booster seats have been designed to work in association with the car seat belts since seat belts are designed only for adults and for big children. These seats are fitted for children age of 4 and with weight less than 40 lbs.
There are numerous variations of designs and models of infant car seats but the materials used in making these car seats for kids are usually the same. The padding of the individual infant car seats are made of foam while the covers of the seat as well as the harnesses are made of vinyl and fabrics. Another material of the infant car seat is polypropylene pellets.
Labels and instructions are attached to the infant car seats to enable the proper usage by parents or car users and properly restrain the child during a motor vehicle accident. The infant car seats also include buckles and attaching mechanisms and each seat has an expiration date on it. The National Highway Traffic Safety Administration provides information on child safety seats recalled by manufacturers for safety reasons.