Head restraints are very important safety feature to avoid whiplash or similar injury to the cervical vertebrae in rear impact crash. What is a whiplash? This is a non-medical term that refers to the extending backward by the head from the torso during a rear impact.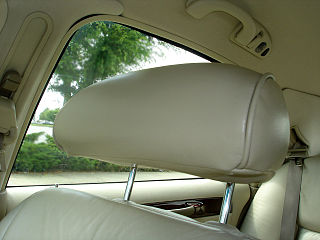 Whiplash accounts for 80% annual insurance claims
In the 1960's, about 400,000 persons suffered whiplash yearly during rear crash. More statistical data revealed that three quarters of car-related injuries are in the neck. A 2013 research from Institute and Faculty of Actuaries (IFOA) also noted that legal cost of whiplash insurance claims rose by 7%.
Although whiplash is a minor injury, the victim can experience long, painful and devastating symptoms. In insurance claims, more than 80% are related to whiplash injury and cost £1 billion yearly.
To ensure passenger safety, head restraints or head rests are designed to be at eye level and higher considering the center of gravity of the head and should be as close to the back of the head. They should be fitted to the front and back seats, either attached or integrated to the top of the car seats in order to minimize rearward motion of the passenger during a crash.
Head restraints have been part of the car safety standards in reply to the Federal Motor Vehicle Safety Standard No. 202 which requires that head restraints be mandatorily applied to to passenger cars, and to multipurpose passenger vehicles, trucks and buses with a gross vehicle weight rating (GVWR) of 4,536 kg or less, manufactured on or after September 1, 2009.
How effective are head restraints?
There are two types of head restraints or head rest: the integral and the adjustable types. Both have minimized whiplash injuries during highway crashes. Crash tests have been conducted so that automaker strictly adheres to the standards.
Head rests can effectively support the head and the neck thereby preventing hyperextension.
The studies revealed that head restraints do not have negative effects so far. There has been no increase in rear impact fatalities, nor did it aggravate rear-seat occupant's injury in frontal crashes. Also, the head restraints do not cause any accident if you think that they can block the driver's side and rear views.