How important are curtain airbags to passenger safety? When one shops for a good car, the first consideration is the safety of the occupants during side impact crashes.
Different international researches have indicated that an effective obstacle against being ejected from a car during a roll-over crash is a side curtain airbag. Up to 45% of cases of brain injury or death during side impact crashes are reduced when vehicles have curtain airbags as a safety device. Nowadays, many SUVs and MPVs have long inflatable curtain airbag that can protect all 3 seat rows.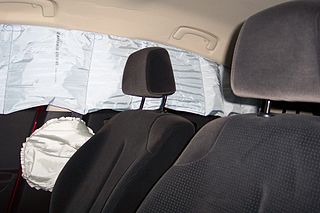 How curtain airbags work?
Head protecting airbags, according to US research, can minimize driver's death by forty percent during side impact crashes. Without airbags, there will be little protection to the head from side crashes or striking rigid object like a tree or a pole.
Curtain airbags are side airbags that protect the head. They immediately activate during a side impact crash and deploy atop the door rails above the side windows. They work by cushioning between the driver or the passenger and the window. They stay in place to protect the head when the car rolls over.
Other designs such as combination head and torso airbags are also available. These combination airbags are activated from the seats although some types are deployed from the door protecting both the head and body against side impact crashes. Combination designs, though are not as effective as curtain airbags in rollover crashes.
Which car models have curtain airbag feature?
Volvo was the very first automaker which made head protection airbag as a standard equipment in 1999 Volvo S80.
During the late 1997, tubular shaped head side airbags were fitted to the 1998 model year BMW 7-series and E39 5-series. This is a standard equipment called Head Protection System (HPS) which was designed to protect the head during side impact crashes while inflated up to seven seconds for rollover shield but the tubular design has been substituted by an inflatable curtain airbag.
Toyota began to use a side curtain airbag designed to deploy from the roof on the Toyota Progrès in May 1998.
In the same year, the Volvo S80 was given a roof mounted curtain airbag design that can equally protect front and rear passengers.
From 2001, curtain airbags have been a standard equipment on all new Volvo cars except for the C70 model.
Later in 2006, the C70 convertible model was recognized as the world's very first door-mounted side-curtain airbags designed to deploy upwards.
Other cars with curtain airbags are Honda Accord in 2003 and Kia Spectra in 2004.
Curtain airbags have been a growing demand and trend for automakers and this year 2013, there might be a policy to make them a standard on many compact cars like the Chevrolet Cobalt, Hyundai Elantra, Honda Civic, Mazda3 and 2009 Toyota Corolla.